Nita's Secret Peach Pie
By
Paula Deen
JUMP TO RECIPE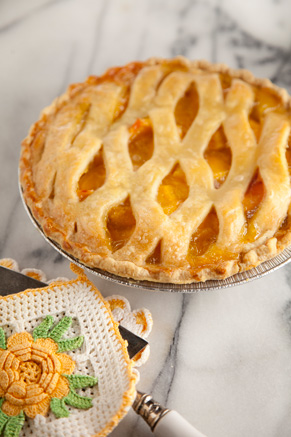 Difficulty: Easy
Prep time: 30 minutes
Cook time: 45 minutes
Servings: 8
Ingredients
7 cups fresh peaches, peeled and thickly sliced (can substitute frozen slices)
1/2 lemon, juiced
1 1/2 cups sugar
1/4 cup flour
1/2 teaspoon almond extract
1/4 teaspoon nutmeg
5 tablespoons butter, divided
1 box (two crusts) refrigerated pie crusts
1 egg
Directions
Pre heat oven to 425º.
Roll one half of the pie dough out to fit the bottom of your pie pan, allowing a 1″ over hang and place in the refrigerator until ready to use.
In a large sauce pan, add peaches, lemon juice, sugar and flour and stir until coated. Bring fruit mixture to a low boil. Reduce heat to low and cook until fruit is just slightly tender. Remove pan from heat. Stir in almond extract, nutmeg and three tablespoons butter. Allow to cool slightly.
Remove pie pan from refrigerator and fill with the cooled mixture. Dot the top of the fruit with the pieces of the remaining two tablespoons butter. Roll out the second crust and decorate the top of the pie with a lattice top or any special way you like. (If covering the top of your pie completely with the top crust, make sure to cut slits in the top to allow the steam to escape) Decoratively crimp the edges.
In a small bowl, whisk the egg together with 1 tablespoon of water. Brush the top of your pie with the egg wash.
Bake for 10 minutes then lower heat to 350º for an additional 30 minutes or until the top is golden and the fruit is bubbly.
Cool before slicing and serve with hand-churned vanilla bean ice cream and a cup of coffee.