Grilled Eggplant Dip
By
Paula Deen
JUMP TO RECIPE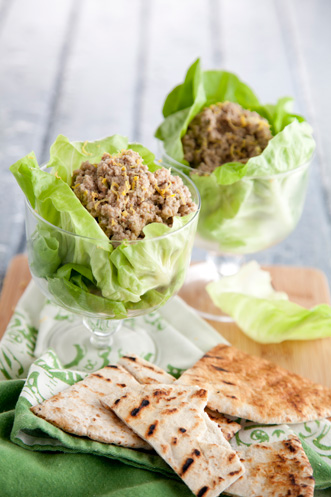 Difficulty: Easy
Prep time: 10 minutes
Cook time: 10 minutes
Servings: 10
Ingredients
1 teaspoon Paula Deen's House Seasoning
1/2 teaspoon or more to taste coarse salt
3 tablespoons or more to taste, plus lemon wedges for serving lemon juice
3 tablespoons divided extra virgin olive oil
4 tablespoons tahini
6 cloves each cut into 3 to 4 lengthwise wedges garlic
2 cylindrical about 1 lb each eggplants
3 tablespoons minced fresh parsley
lettuce leaves
paprika
grilled for serving pita breads
Directions
Set up the grill for direct grilling on high heat.
Make slits in each eggplant and insert the garlic. When ready to cook, place the eggplants on the hot grate and grill until the skins are charred all over and the flesh is very soft, 20 to 30 minutes in all, turning with tongs. Transfer the eggplants to a plate to cool.
Peel the burnt skin off the eggplants – don't worry about removing it all. Coarsely puree the grilled eggplants with their garlic in a food processor. Add the tahini, 2 tablespoons of oil, lemon juice, salt and House Seasoning. Taste for seasoning, adding salt or lemon juice as necessary, the mixture should be very flavorful. Add the parsley and process in small bursts, just to mix.
Spoon the dip into a small bowl lined with lettuce leaves, drizzle with remaining tablespoon of oil, and sprinkle with paprika. Serve with lemon wedges and grilled pita bread.