Marinated Chicken Gyro Wraps
By
Deen Brothers
JUMP TO RECIPE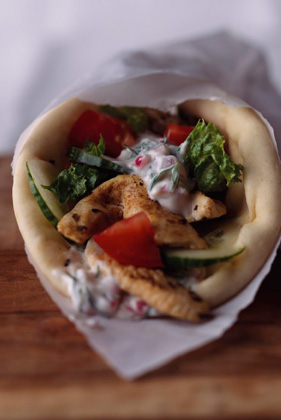 Featured in:
The Deen Bros. Recipes from the Road
Difficulty: Easy
Servings: 4
Ingredients
1 1/2 pounds chicken cutlets
2 tablespoons olive oil
1 clove garlic
1 teaspoon dried oregano
3 4 teaspoon ground cumin
Salt and freshly ground black pepper
1 cup Greek yogurt
1/4 cup finely chopped red onion
1 to 2 clove s garlic
1 1/2 tablespoons chopped fresh dill
2 teaspoons freshly squeezed lemon juice
Salt and freshly ground black pepper
4 pita wraps
1 cup shredded lettuce
1 cup chopped tomato
1/2 cup sliced cucumber
Directions
In a large bowl, place the chicken, oil, 1 clove garlic, oregano, cumin, and salt and pepper to taste; toss to coat. Cover with plastic wrap and refrigerate for 1 hour.
In a small bowl, stir together the Yogurt-Dill Sauce ingredients. Chill until ready to use.
Preheat the broiler. Spread the chicken on a baking sheet. Broil 6 inches from heat about 8 minutes or until cooked through.
To serve, spread each pita with some of the Yogurt-Dill Sauce. Divide the chicken, lettuce, tomato, and cucumber evenly among the pitas. If desired, top with additional sauce.