Lime Marinated Chicken Wings with Avocado Dip
By
Paula Deen
JUMP TO RECIPE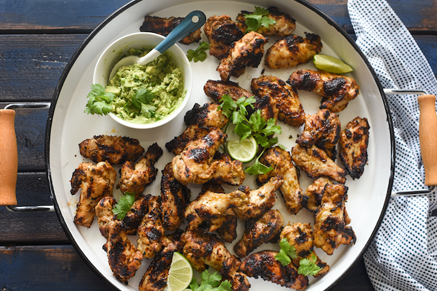 Difficulty: Easy
Prep time: 15 minutes
Cook time: 15 minutes
Servings: 15
Ingredients
1 seeded and sliced jalapeño pepper
4 cloves chopped and 1 clove minced for dip garlic
1/4 cup vegetable oil
1 tablespoon tomato paste
2 tablespoons honey
1 1/2 juiced limes
3 lbs rinsed and patted dry chicken wings
1/2 zested lime
1 avocado
3 tablespoons chopped fresh cilantro
1 1/2 teaspoons lime juice
1 minced clove garlic
1/4 teaspoon salt
freshly ground pepper
Directions
In a blender, puree until smooth the jalapeño pepper, 4 cloves garlic, vegetable oil, tomato paste, salt, honey and juice of 1 1/2 limes. Pour marinade over the chicken. Add the lime zest and toss to coat. Cover with plastic wrap and refrigerate overnight.
Preheat boiler to medium heat.
Arrange chicken on a baking sheet lined with parchment paper. Broil chicken at least 6 inches from the heat for 4 to 5 minutes per side; or until chicken is crispy on the outside and cooked through. Serve with Avocado Dip.
Avocado Dip:
Pit and peel avocado. Place avocado in a medium bowl; mash. Fold in 3 tablespoons chopped fresh cilantro leaves; 1 1/2 teaspoons lime juice, 1 clove garlic and salt; and freshly ground black pepper, to taste.