Coconut and Lemon Curd Cake
By
Paula Deen
JUMP TO RECIPE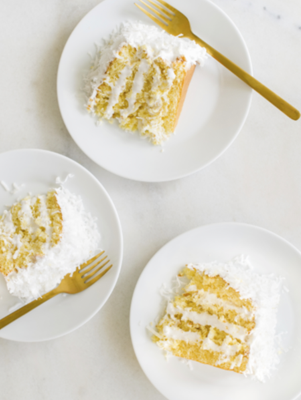 Difficulty: Medium
Prep time: 20 minutes
Cook time: 40 minutes
Servings: 10
Ingredients
1 (15.25-oz) box yellow cake mix
butter, for pans
1 1/2 cups sugar
2 egg whites
1/4 teaspoon cream of tartar
1/8 teaspoon salt
1/3 cup water
1 (10-oz) jar lemon curd
zest of 1 lemon, finely grated
1 1/2 cups sweetened flaked coconut
Directions
Preheat the oven to 350 °F. Butter and flour 2 (8-inch) round cake pans.
Prepare and bake the cake according to the package directions. Let the cakes cool in the pans for 10 minutes, then turn them out onto a wire rack to cool completely.
In a heatproof bowl on the top of a double boiler (being sure that the bottom of the bowl does not touch the water), add the sugar, egg whites, cream of tartar, salt, and water. Beat with an electric mixer 1 minute, or until the mixture reaches 160°F on a candy thermometer. Remove the bowl from the heat and continue to beat, on high speed, for 7 minutes. Use immediately (frosting will set).
In a small saucepan, heat the lemon curd gently over medium-low heat or microwave it for 20 seconds on medium power, just to soften. Stir in the lemon zest.
Cut each cake layer in half horizontally. Frost each layer with a layer of curd, frosting and coconut. Top it with another layer of cake and frosting, and repeat with all the layers. Frost the top and sides of the cake and cover with the coconut. Store wrapped in an airtight container in the refrigerator. When ready to serve, remove the cake from the refrigerator and slice. The cake will keep in the refrigerator for 3 to 5 days.