Easter Bonnet Cookies
By
Paula Deen
JUMP TO RECIPE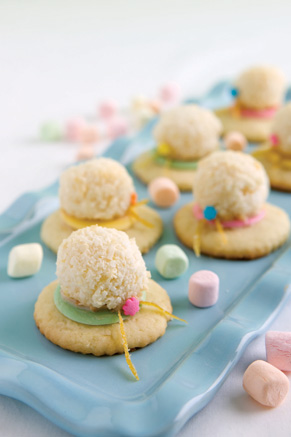 Difficulty: Easy
Prep time: 40 minutes
Cook time: 10 minutes
Servings: 12
Ingredients
1/2 cup unsalted butter, softened
1/2 cup sugar
1/4 cup confectioner's sugar
1 large egg
2 tablespoons lemon zest
1/2 teaspoon vanilla extract
1 1/2 cups all purpose flour
1/4 teaspoon salt
1/8 teaspoon baking powder
1/2 cup prepared cake frosting
butter mints
macaroons
candied lemon zest
flower-shaped decorative sprinkles
Directions
In a large bowl, combine butter and sugars. Beat at medium speed with an electric mixer until fluffy. Add egg, zest and vanilla, mixing to combine.
In a small bowl, sift together flour, salt and baking powder. Gradually add flour mixture to butter mixture, beating at low speed, until smooth. Divide dough into 2 balls, wrap with plastic wrap, and refrigerate for 1 hour.
Spray a baking sheet with nonstick cooking spray.
On a lightly floured surface, roll dough to 1/4-inch thickness. Cut with round, fluted 2-inch cutters, and place cookies on prepared baking sheet. Chill cookies for 15 minutes before baking.
Preheat oven to 350 °Fš.
Bake for 10 minutes or until edges are lightly browned. Let cool on pans for 2 minutes. Remove from pans, and cool completely on wire racks.
Spread a very small amount of frosting (this will act as an adhesive) onto middle of cookie, and top with a butter mint. Spread a small amount of frosting onto butter mint; gently press a Lemon Coconut Macaroon onto butter mint. Garnish with Candied Lemon Zest and flower-shaped decorative sprinkles, if desired.
Note: Cookies can be stored in an airtight container for up to 1 week or frozen for up to 1 month. You can use licorice instead of Candied Lemon Zest to form ribbons on bonnets, and you can also attach macaroons to cookies using pastel-colored frosting. Pipe frosting in a circle in the middle of cookie using a star tip, and then press macaroon onto frosting to attach.