Whole Wheat Pie Crust
By
Deen Brothers
JUMP TO RECIPE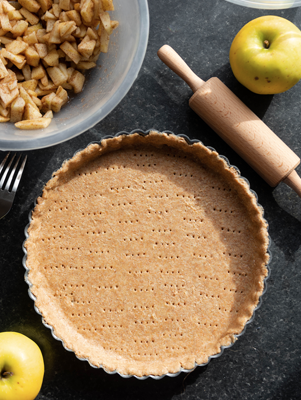 Difficulty: Easy
Prep time: 1 hour 10 min
Cook time: 10 min
Servings: 2 crusts
Ingredients
1 1/2 cups whole wheat pastry flour
2 tablespoons sugar
1 tablespoon flaxseed meal
1/2 teaspoon ground cinnamon
1/4 teaspoon baking powder
Pinch salt
3 tablespoons cold unsalted butter
Zest of 1 lemon
6 tablespoons ice water
Directions
Preheat the oven to 375 degrees F.
In a medium bowl, whisk the flour, sugar, flaxseed meal, cinnamon, baking powder and salt. Place the mixture into a food processor and add the butter and lemon zest. Pulse until the butter and lemon zest begin to make the mixture crumbly. Drizzle in the water while you pulse the dough until it starts to pull away from the side of the bowl.
Divide the dough in half and shape each half into a disk. On a floured surface, roll each disk out until about 1-inch thick. Wrap the disks in plastic wrap and refrigerate for 1 hour.
When ready to use the dough, remove the disks from the fridge and let stand for 10 minutes. When ready to use, roll the disks out to a 1/2-inch thickness and place into desired pie plate.
Cook's Note: To add more flavor and richness to this dough, you can grind up pecans or walnuts to a fine texture and sprinkle about 1 tablespoon over the center your dough as you are rolling it out. This will add a nice nutty and buttery flavor to the whole wheat crust.