Jamie's Coconut Cake
By
Jamie Deen
JUMP TO RECIPE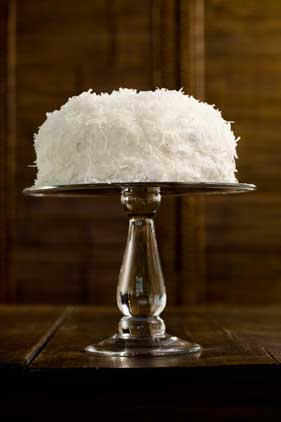 Featured in:
The Lady and Sons Just Desserts
Difficulty: Easy
Prep time: 30 min
Cook time: 25 min
Servings: 12
Ingredients
Cake
Replace regular milk with 1 cup canned unsweetened coconut milk
Filling
3/4 cup sugar
1 cup sour cream
4 tablespoons milk
1/2 cup flaked sweetened coconut
Frosting
Directions
Follow directions for Basic 1-2-3-4 Cake, substituting coconut milk for regular milk. While cake is baking, prepare filling. Stir together sugar, sour cream, milk and coconut in a bowl until well blended. Remove cake layers from oven and allow cake to remain in pan as you prepare to stack and fill. Remove first layer and invert onto cake plate. Using the wrong end of a wooden spoon, poke holes approximately 1 inch apart until entire cake has been poked. Spread one third of filling mixture on cake layer. Top with second layer, repeat process. Top with last layer and repeat process again. (As I stack layers together, I stick them with toothpicks to prevent cake from shifting.) You can place the cake in the refrigerator for 3 days to allow it to absorb the filling mixture.
Prepare 7-Minute Frosting. Frost top and sides of cake. Sprinkle top and sides of cake with additional coconut.