Basic 1-2-3-4 Cake
By
Paula Deen
JUMP TO RECIPE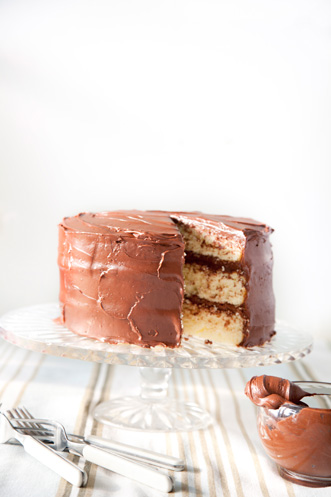 Difficulty: Easy
Prep time: 25 minutes
Cook time: 30 minutes
Servings: 18
Ingredients
2 sticks at room temperature butter
2 cups granulated sugar
4 eggs
3 cups sifted self rising flour
1 cup milk
1 teaspoon vanilla extract
Directions
Preheat oven to 350 °F.
Grease and flour 3 (9-inch) cake pans. Using an electric mixer, cream butter until fluffy. Add sugar and continue to cream well for 6 to 8 minutes. Add eggs,1 at a time, beating well after each addition. Add flour and milk alternately to creamed mixture, beginning and ending with flour. Add vanilla and continue to beat until just mixed.
Divide batter equally among prepared pans. Level batter in each pan by holding pan 3 or 4 inches above counter, then dropping it flat onto counter. Do this several times to release air bubbles and assure you of a more level cake.
Bake for 25 to 30 minutes or until done. Cool in pans 5 to 10 minutes. Invert cakes onto cooling racks. Cool completely and spread cake layers with your favorite frosting to make a 3-layer cake.