Strawberry and Cream Ice Cream
By
Deen Brothers
JUMP TO RECIPE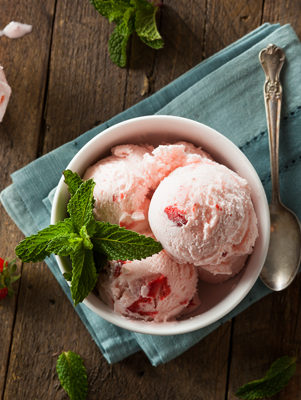 Difficulty: Easy
Prep time: 2 hours 55 min
Cook time: 15 min
Servings: About 6 Cups
Ingredients
22 ounces strawberries
1 tablespoon freshly squeezed lemon juice
1 cup granulated sugar
4 large egg yolks
1/4 teaspoon kosher salt
1 1/2 cups heavy cream
1 1/2 cups whole milk
1 vanilla bean
Directions
Add the strawberries to a bowl along with the lemon juice and 1/4 cup of the sugar. Toss until the sugar begins to dissolve. Let sit out at room temperature for 30 minutes while you prepare the custard.
Whisk together the egg yolks, remaining 3/4 cup sugar and salt together in a large bowl until the eggs look pale yellow and are well combined with the sugar.
In a large saucepan, add the cream, milk, vanilla bean and seeds and bring to a simmer over medium heat. Add a few ladles of the hot milk mixture into the eggs and sugar while whisking constantly. Add the tempered eggs and milk mixture back into the saucepan while also constantly whisking. Turn the heat to low and continue stirring and cooking until the mixture has thickened enough to coat the back of a wooden spoon, 4 to 6 minutes. Strain the mixture into a bowl and set over another large bowl filled with ice water. Stir to cool the mixture down. You want the custard to be ice cold before churning.
Roughly pulse the berries and their juices in a food processor. Stir the chunky puree into the chilling custard to chill. Place in the refrigerator to continue to chill for 2 hours.
Freeze in the ice cream machine according to the manufacturer's instructions. Run until it looks like thick soft serve. Place in an airtight container and place in the freezer to harden.