Bruleed Banana Split
By
Paula Deen
JUMP TO RECIPE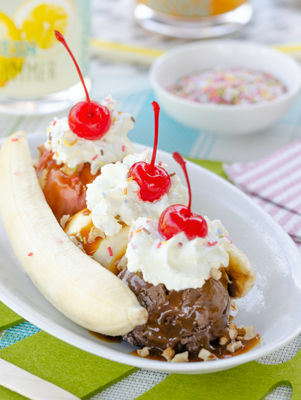 Difficulty: Easy
Prep time: 5 minutes
Cook time: 2 minutes
Servings: 1
Ingredients
1 peeled and split lengthwise banana
1 1/2 teaspoons packed brown sugar
1 scoop vanilla ice cream
1 scoop chocolate ice cream
1 scoop strawberry ice cream
for topping chocolate sauce
for topping caramel sauce
for topping whipped cream
for topping sprinkles
for topping maraschino cherries
for garnish fresh mint
Directions
Preheat broiler. Line a rimmed baking sheet with foil.
Lay the banana halves, cut side down, on the baking sheet. Sprinkle each half with 1 1/2 teaspoons of the brown sugar. Torch until sugar begins to bubble, or put under the broiler 4 to 5 inches from the heat about 2 minutes or until the sugar melts and starts to bubble. Watch closely to make sure they don't burn.
Place the scoops of ice cream in a bowl or a long banana-split bowl and place the banana halves on either side. Top with chocolate and caramel sauces to taste, then the whipped cream, sprinkles and as many cherries as you can handle! Garnish with fresh mint.