Creme Brulee
By
Paula Deen
JUMP TO RECIPE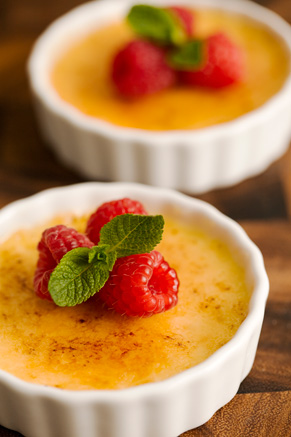 Difficulty: Hard
Prep time: 15 minutes
Cook time: 15 minutes
Servings: 15
Ingredients
1/3 to 1/2 cup or white sugar, for caramelizing light brown sugar
1/4 cup plus 1 tablespoon sugar
4 large egg yolks
1 split lengthwise vanilla bean
2 cups heavy cream
Directions
Preheat oven to 300 °F. In a heavy-bottomed medium nonreactive saucepan, heat the cream with the vanilla bean for 15 minutes; stirring to ensure it does not burn. Remove from the heat and let steep for 15 minutes. Remove and discard the vanilla bean. Strain the cream. Meanwhile, in a medium bowl, beat the egg yolks with an electric mixer on high speed for 5 minutes, or until they are light and fluffy. Gradually beat in the granulated sugar. Add about half the cream mixture, a little at a time, to the egg mixture, whisking until well blended. Then pour the egg mixture into the remaining cream mixture. Stir until completely blended.
Pour the custard into four (9 oz) ramekins or custard cups. Place the dishes in large baking pan. Pour enough hot water into the pan to come halfway up the sides of the ramekins. Bake for 35 to 40 minutes or until the mixture is set in the center (it should still wiggle when shaken). Remove the dishes from the baking pan. Let cool l completely at room temperature, then refrigerate for at least 2 or up to 24 hours. Let the ramekins stand at room temperature 20 minutes before serving. Spoon the 1/3 to 1/2 cup white or light brown sugar in a thin, even layer over each portion of custard, covering it completely. To caramelize the sugar, light a propane torch and hold it so the flame just touches the surface. Start at the center and spiral out toward the edges of the ramekins. If the sugar begins to burn, pull the torch away and blow on the sugar to extinguish the flame.
VARIATIONS: Finely grate orange zest or bittersweet chocolate over the creme before adding the sugar for caramelizing. A propane torch can be bought at your local hardware store. If you don't have one, caramelize the topping under the broiler, watching carefully so as not to burn it.