Blueberry Creme Brûlée Tart
By
Paula Deen
JUMP TO RECIPE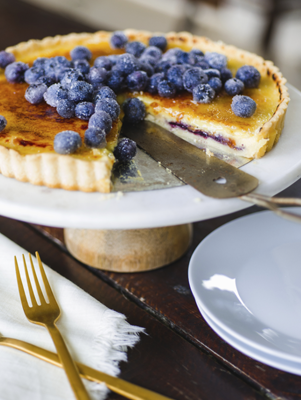 Difficulty: Medium
Prep time: 15 minutes
Cook time: 1 hour 15 minutes
Servings: 8
Ingredients
1 1/4 cups all purpose flour
1/2 cup room temperature butter
2 tablespoons sour cream
2 cups heavy cream
4 large egg yolks
2 cups divided sugar
1/3 cup blueberry preserves
1 cup large fresh blueberries
1/2 cup light corn syrup
Directions
Preheat the oven to 375 °F.
Place the flour, butter, and sour cream in a food processor and pulse to combine. When the dough has formed a ball, pat with lightly floured hands into the bottom and sides of an ungreased 10-inch tart pan with a removable bottom and 1/2-inch sides. Bake for about 20 minutes, until the crust is set and only lightly browned if at all. Let cool while preparing the filling.
Preheat oven to 300 degrees F.
In a heavy-bottomed medium nonreactive saucepan, heat cream over medium-low heat for 15 minutes, stirring to ensure it does not burn; do not let boil.
Add 1/4 cup heavy cream to beaten eggs. Mix together. Slowly add hot cream to mixture and add 1/2 cup sugar. Mix thoroughly.
Gently spread the blueberry preserves over the bottom of the baked and cooled tart shell, in a thin layer. Gently pour the custard over the preserves. Bake for 40 minutes or until the mixture is almost set in the center (it should still wiggle when shaken). Let cool to room temperature and then refrigerate for at least 2 hours, or up to 24 hours.
Sprinkle the remaining 1/2 cup sugar in a thin, even layer over the baked custard filling. To caramelize the sugar, light a propane torch and hold it so the flame just touches the surface. Start at the center and spiral out toward the edges of the tart shell. If the sugar begins to burn, pull the torch away and blow on the sugar to extinguish the flame. Top with sugared blueberries. Pop out bottom of pan and serve.
Sugared Blueberries:
Lightly brush the blueberries with corn syrup and roll in 1 cup sugar.