Lighter Peach Ice Cream
By
Deen Brothers
JUMP TO RECIPE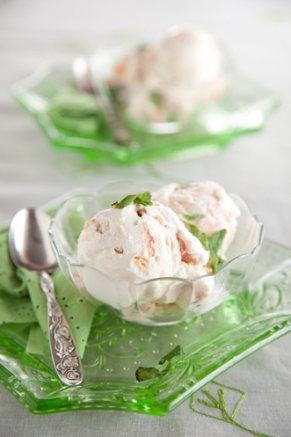 Difficulty: Medium
Prep time: 25 minutes
Cook time: 25 minutes
Servings: 25
Ingredients
1 1/2 lb peeled, pitted, and chopped ripe peaches
1 1/2 lb (ripe) peeled, pitted, and chopped peaches
3/4 cup sugar
2 teaspoons lemon juice
2 cups (2%) low fat milk
1 cup reduced-fat half and half
1 teaspoon vanilla extract
3 egg yolks
Directions
Puree the peaches, 1/2 cup sugar and lemon juice in a food processor.
Bring the milk and half-and-half to a simmer in a medium saucepan. Remove from the heat; stir in the vanilla.
Meanwhile, whisk together the egg yolks and the remaining 1/4 cup of sugar in a small bowl until the mixture is thickened and pale yellow, about 1 minute. Whisk in 1/2 cup of the hot milk mixture into the egg mixture. Slowly pour the egg mixture back into the milk mixture in the pan, whisking constantly. Cook, over medium-low heat, stirring constantly, or until the mixture begins to thicken slightly, about 5 minutes. Do not boil or the mixture may curdle.
Transfer the custard to a medium bowl; stir in the peach mixture until blended. Place the bowl into a larger bowl filled with ice cubes and water. Refrigerate until the custard is well chilled, about 1 hour.
Pour the peach mixture into an ice cream maker and freeze according to the manufacturer's instructions. Transfer the ice cream to a freezer container, cover and freeze until firm, at least 3 hours or up to 6 hours.