Almond Sour Cream Pound Cake
By
Paula Deen
JUMP TO RECIPE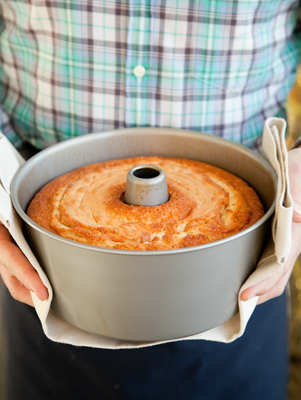 Difficulty: Medium
Cook time: 3 hours 35 minutes
Servings: 16-18
Ingredients
1/2 teaspoon orange extract
6 eggs
1 cup sour cream
1/2 teaspoon baking soda
3 cup granulated sugar
3 cups plus more for pan all purpose flour
3 1/2 sticks (1/2 lb plus 3/4 cup) divided, 1 1/2 sticks (3/4 cup) softened, plus more for pan butter
3 cups (up to 4 cups) confectioner's sugar
2 teaspoons divided almond extract
Directions
Preheat oven to 325 °F.
Butter and flour a tube pan and set aside. In the bowl of a mixer, cream 2 sticks butter and sugar together and then add sour cream. Sift flour and baking soda together. Add to creamed mixture, alternately with eggs, 1 at a time, beating after each addition. Add 1/2 teaspoon of almond and orange extracts and stir to combine. Pour into prepared pan and bake for 1 hour and 20 minutes. Cool cake in pan for about 10 minutes and then unmold and cool completely on a wire rack.
Almond Buttercream Frosting:
With an electric mixer, cream 1 1/2 sticks butter in a large mixing bowl. Slowly beat in the confectioner's sugar until smooth and creamy and sweetened to your liking (about 2 minutes). Add 1 1/2 teaspoons almond extract and stir to blend. Frost cake when fully cooled. If you are not using the frosting immediately, store it, covered, in the refrigerator and then bring it to room temperature just prior to using.
Yield: 3 cups
Cook's Note: This is the basic recipe for a sour cream pound cake. This recipe would have to be modified to be made into a wedding cake.