Classic Buttermilk Biscuits
By
Paula Deen
JUMP TO RECIPE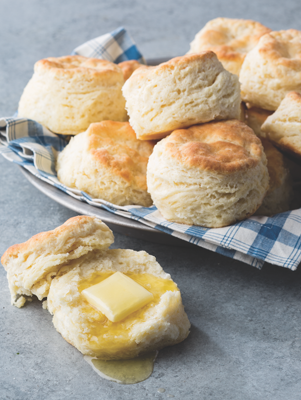 Featured in:
Paula Deen's Southern Baking
Difficulty: Medium
Prep time: 20 minutes
Cook time: 20 - 25 minutes
Servings: 12
Ingredients
4 cups self-rising flour
2 teaspoons sugar
1 teaspoon kosher salt
1 cup cold unsalted butter, cubed
1 ½ cups cold whole buttermilk
2 tablespoons unsalted butter, melted
butter, for serving
Directions
Preheat oven to 425°. Line a large baking sheet with parchment paper.
In a large bowl, whisk together flour, sugar, and salt. Using a fork or pastry blender, cut in cold butter until mixture is crumbly and about the size of peas. Gradually add buttermilk, stirring just until dry ingredients are moistened.
Turn out dough onto a lightly floured surface, and gently knead 3 to 4 times. Pat dough to 1-inch thickness using a light touch; the more you work the dough, the tougher your biscuits will be. Using a 2½-inch round cutter dipped in flour, cut dough without twisting cutter, flouring cutter between each cut. Make cuts close together to minimize scraps. Gently re-pat scraps and cut to use all dough. Place biscuits on prepared pan, sides touching so they rise high. Gently press down top of biscuits with your knuckles; brush with melted butter.
Bake until golden brown, 20 to 25 minutes. Let cool on pan for 5 minutes; serve immediately with butter.
Baking Tips: After you cube the butter, put it in the freezer for a few minutes to get it really cold. Resist the temptation to cut the butter into pieces that are smaller than peas; bigger butter pieces mean taller, flakier biscuits. Use full-fat buttermilk, and give the container a good shake before measuring. If the sides of your biscuits are touching, they will rise higher. Biscuits can be prepared through step 3 and frozen in a heavy-duty resealable plastic bag for up to 2 months. Bake frozen biscuits as directed for 30 to 35 minutes.