Mama's Buttermilk Bread
By
Damon Lee Fowler
JUMP TO RECIPE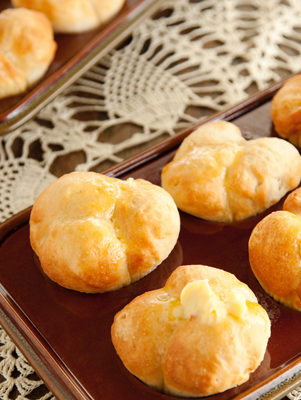 Difficulty: Hard
Prep time: 16 hours
Cook time: 35 minutes
Servings: Makes 4 small (7-inch) loaves, 3 (9-inch) loaves, or about 3 dozen rolls
Ingredients
2 pounds (about 7 cups) unbleached all-purpose flour
2 tablespoons sugar, reserve one pinch for proofing yeast
1 teaspoon baking soda
1 teaspoon salt
2 cups buttermilk
½ cup water
4 tablespoons unsalted butter or oil
2 teaspoons active dry yeast
Directions
Reserve 1 cup of flour to use during the kneading. Whisk or sift together the remaining flour, sugar, soda, and salt.
Heat the milk, water, and butter or oil and pinch of sugar until just warm (110° F.), stirring until the butter is melted. Let cool slightly and dissolve the yeast in it. Let proof 10 minutes (All baker's yeast should be given a test called proofing to make sure it's still alive. To proof yeast, dissolve it in warm water and add a pinch of sugar. Set the mixture aside in a warm place for 5 to 10 minutes. If it begins to swell and foam, the yeast is alive, active and capable of leavening bread), then make a well in the center of the dry ingredients and pour in the liquid. Work it into a soft dough. Lightly sprinkle a work surface with some of the reserved flour, turn out the dough, and knead about 8 minutes, adding flour as needed, until the dough is elastic and smooth.
Clean the mixing bowl and return the dough to it, cover with damp, double-folded towel or plastic wrap, and let rise in a warm spot until doubled, about 4 hours, or lightly oil the bowl before putting the dough in, cover with plastic wrap, let it rise in a cool spot or the refrigerator overnight or for at least 8 hours, keeping it refrigerated until you are ready for the final shaping and rising.
Lightly grease four small (7½ -by-2¼ inch) loaf pans with butter or olive oil. Punch the dough down and lightly knead for a minute. Divide it into quarters, shape each into an oblong loaf, and put them into the pans. Cover with a double-folded damp towel and let rise in a warm spot until doubled and clearing the tops of the pans, about 1-to-1½ hours.
Meanwhile, position a rack in the center of the oven and preheat to 375° F. Uncover the bread and bake in the center of the oven 20 minutes, then increase the temperature to 400° F. and bake until the loaves are well-browned and hollow-sounding when tapped, about 15 minutes longer. Turn the bread out of the pans and cool it on wire racks.
For Buttermilk Rolls or Yeast Biscuits: Roll the dough out ¼-inch thick and cut with a 2-inch biscuit cutter dipped in flour. Place on a greased baking sheet about an inch apart for separate rolls or into greased 9-inch cake pans, slightly touching, for cluster rolls. For pocketbook rolls, crease each roll firmly down its center with a knife, fold over, and put a greased baking sheet about an inch apart. For cloverleaf rolls, lightly butter two 12-well standard muffin tins; grease your hands, pinch off 1-inch lumps of dough, roll into tight smooth balls, and put in the tins three balls per well. Cover with a damp towel, let rise until doubled, then uncover and bake at 450° F. until browned, about 12 to 15 minutes.
For Whole-Wheat Buttermilk Bread: Substitute from 1 to 3 cups of whole-wheat flour for the regular flour. Most whole-wheat flour tends to be on the thirsty side and may need a little more liquid, so have about a quarter of a cup of room temperature water close at hand as you mix the dough, so it can be added as needed.