Crispy Oven-Fried Chicken
By
Deen Brothers
JUMP TO RECIPE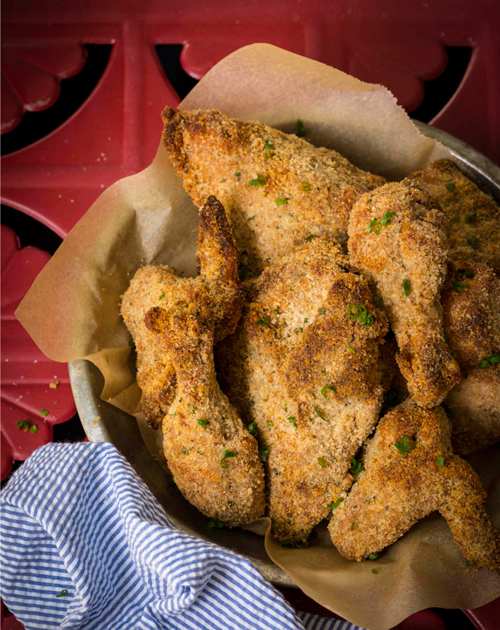 Featured in:
From Mama's Table to Mine
Difficulty: Easy
Servings: 4
Ingredients
1/3 cup 1% buttermilk
1/4 cup finely chopped fresh chives
1 teaspoon Dijon mustard
1/4 teaspoon hot sauce
4 bone-in chicken breasts about 12 ounces each
1/2 teaspoon salt
1/2 teaspoon freshly ground black pepper
1/2 cup dried bread crumbs
Directions
1. In a medium bowl, whisk together the buttermilk, chives, mustard, and hot sauce. Remove the skin from the chicken breasts, add the chicken to the bowl, and let it soak for at least 30 minutes or overnight.
2. Preheat the oven to 425°F. Spray a rimmed baking sheet with cooking spray.
3. Remove the chicken from the marinade and season it with salt and pepper. Place the bread crumbs in a wide, shallow bowl. Dip the chicken into the bread crumbs and toss well to coat. Place the chicken on the prepared baking sheet. Spray the chicken generously with cooking spray and bake until it is just cooked through, 25 to 30 minutes.
Get Cheesy:
To make this dish just a little more decadent without adding too many more calories, I like to grate some Parmesan or pecorino into my bread crumbs. About 2 tablespoons should give you a nice cheesy flavor in your crust.