Chicken Under a Brick
By
Paula Deen
JUMP TO RECIPE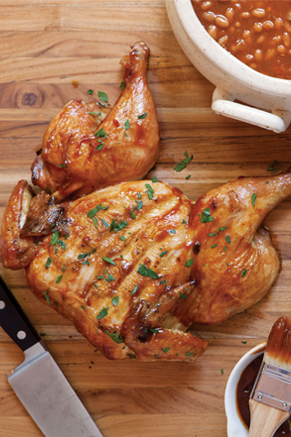 Difficulty: Easy
Prep time: 15 minutes (2 hours in refrigerator)
Cook time: 40 minutes
Servings: 4-6
Ingredients
1 4- to lb (5-) whole chicken
3 tablespoons red wine vinegar
1 tablespoon olive oil
1 tablespoon chopped fresh sage
1 tablespoon chopped fresh sage leaves
1 teaspoon bottled minced garlic
1 teaspoon bottled minced garlic
1/2 teaspoon salt
1/4 teaspoon ground black pepper
1/4 teaspoon ground black pepper
1 cup chicken broth
1/4 cup tomato paste
1 tablespoon honey
1/2 teaspoon crushed red pepper
1/2 teaspoon crushed red pepper flakes
chopped, for garnish fresh parsley
Directions
1. Remove and discard giblets from chicken. Using kitchen shears, cut chicken along both sides of backbone; discard backbone. Using heels of both hands, press chicken down until flattened.
2. In a 13×9-inch baking dish, combine vinegar and next 5 ingredients. Add chicken, turning to coat. Cover and chill for at least 2 hours.
3. Spray grill rack with nonstick nonflammable cooking spray. Preheat grill to medium-high heat (350° to 400°).
4. Place chicken on grill rack, and top with an aluminum foil-wrapped brick. Grill chicken, covered with grill lid, for 15 minutes per side or until a meat thermometer registers 165°, replacing brick after turning.
5. In a large saucepan, bring chicken broth and next 3 ingredients to a boil. Reduce heat to medium-low, and simmer for 10 minutes. Serve with chicken. Garnish with parsley, if desired.