Moppin Chicken Stuffed with Brie and Apples
By
Paula Deen
JUMP TO RECIPE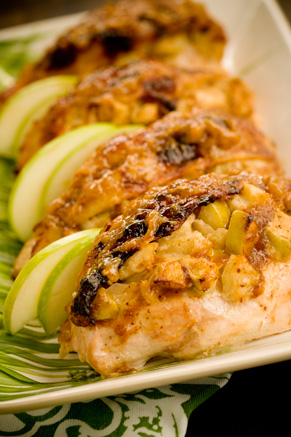 Difficulty: Medium
Prep time: 15 minutes
Cook time: 15 minutes
Servings: 15
Ingredients
2 tablespoons butter
1 tablespoon olive oil
1/2 cup chopped onion
1 cored and coarsely chopped, plus slices for garnish green apple
1 cup divided Paula Deen Collection Moppin Sauce
4 oz without rind, cut in small chunks brie cheese
4 boneless chicken breasts
Directions
Preheat oven to 400 °F.
Heat butter and oil in a sauté pan over medium heat. Add onion; cook until tender and slightly caramelized, about 10 minutes. Add chopped apple and 1/4 C Paula Deen Moppin Sauce. Cook until apples are tender, about 4 to 6 minutes. Remove from heat and let cool slightly, Stir in Brie. Run your fingers under the skin of the chicken separating from the meat and creating a pocket. Put 1/4 of the stuffing under the skin of each chicken breast; press gently to distribute filling evenly under skin. Brush with 1/4 C of Paula Deen Moppin Sauce. Place in a prepared 13 x 9 x 2-inch baking dish.Bake until chicken is tender and juices run clear when pierced with a fork, about 35 to 45 minutes. Remove chicken to serving dish and keep warm.
For Sauce: Skim the fat from the baking dish and spoon the drippings into a small saucepan. Add the remaining 1/2 C Paula Deen Moppin Sauce and heat through over medium heat.Simmer briskly to reduce slightly. Spoon over chicken and garnish with apple slices. Serve alongside a fresh garden salad.