Hoppin' John Salad
By
Paula Deen
JUMP TO RECIPE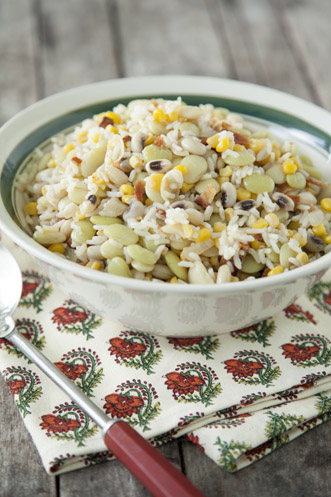 Difficulty: Easy
Prep time: 10 minutes
Cook time: 10 minutes
Servings: 10
Ingredients
2 cups rice
4 slices bacon
1 medium chopped onion
8 oz thawed frozen black-eyed peas
2 cups about 4 ears fresh corn kernels
10 oz thawed frozen baby lima beans
2 cups chicken broth
1/2 cup extra virgin olive oil
1/4 cup white wine vinegar
1 1/2 teaspoons seasoned salt
1 teaspoon black pepper
Directions
Bring 4 cups water to a boil in a saucepan over high heat. Add rice, reduce heat to a simmer and cook for about 20 minutes, or until the rice has absorbed all the water.
In a large skillet, cook bacon over medium heat until crispy. Set aside on paper towels. Reserve drippings in skillet.
To the skillet add onions and cook over medium heat, for 3 to 4 minutes, or until tender. Add black-eyed peas, corn, lima beans and chicken broth. Bring to a boil, cover, reduce heat, and simmer for 30 minutes, or until vegetables are tender; drain. Place into a large bowl.
In a small bowl, whisk oil, vinegar, seasoned salt and pepper. Pour on top of vegetable mixture and toss to coat. Mix in rice and crumble in the reserved bacon. Cover and chill in refrigerator for a few hours before serving.