Chicken Kabobs With Grilled Onions
By
Paula Deen
JUMP TO RECIPE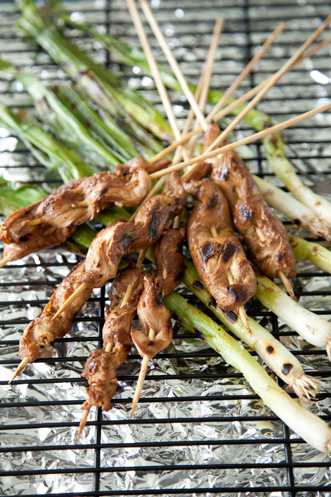 Difficulty: Easy
Prep time: 1 hour 10 minutes
Cook time: 6 minutes
Servings: 10 appetizer servings
Ingredients
3 cloves chopped garlic
2 tablespoons soy sauce
2 tablespoons lemon juice
2 tablespoons teriyaki sauce
2 tablespoons olive oil
2 tablespoons Worcestershire sauce
pinch black pepper
pinch salt
1 lb cut in half chicken tenders
1 bunch green onions
10 soaked in water for 30 minutes wooden skewers
Directions
Spray a grill rack with nonstick, nonflammable cooking spray. Preheat the grill to medium-high heat.
In a large resealable plastic bag, combine the garlic, soy sauce, lemon juice, teriyaki sauce, olive oil, Worcestershire sauce, pepper and salt. Add the chicken. Seal the bag and chill for 1 hour.
Drain the chicken, discarding the marinade. Thread the chicken onto the skewers. Arrange the skewers on the grill, and grill until the chicken is done, about 3 minutes on each side. Grill the green onions until browned, about 1 minute on each side. Arrange the green onions on a serving platter. Top with the chicken. Serve immediately.