Lime Chicken and Shrimp Kabobs
By
Paula Deen
JUMP TO RECIPE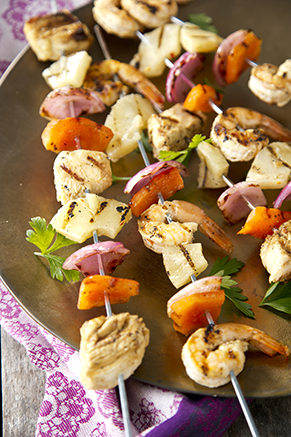 Difficulty: Easy
Prep time: 15 minutes
Cook time: 15 minutes
Servings: 15
Ingredients
2/3 cup vegetable oil
3 juiced limes
2 tablespoons vinegar
1 tablespoon sugar
1/4 teaspoon crushed red pepper
1 cut into 1 inch pieces red bell pepper
1 cut into 1 inch pieces red onion
1 (16 oz) can drained, cut into 1 inch pieces pineapple rings
6 boneless skinless cut into 1 inch pieces chicken breasts
1/2 lb large peeled and de-veined fresh shrimp
skewers
Directions
In a small bowl, whisk oil, lime juice, vinegar, sugar, and crushed red pepper.
In a shallow dish or re-sealable plastic bag, combine bell pepper, onion, pineapple, chicken, and shrimp. Pour lime mixture over chicken mixture; cover dish or seal bag, and place in the refrigerator to for 4 to 6 hours to marinate.
Heat grill to 350 to 400 °F.
Using tongs, remove chicken, vegetable pieces, pineapple and shrimp from marinade, discarding the marinade. Onto the skewers, thread 1 piece of chicken, 1 piece of pepper, 1 piece of onion, and 1 piece of pineapple, alternating to fill the skewer. Do the same thing with the shrimp alternating shrimp, pepper, onion, and pineapple to fill the skewer.
Place chicken kabob on the grill, cover with grill lid, and cook for 15 minutes or until chicken is cooked throughout, with no pink center, turning occasionally.
Place shrimp kabobs on the grill, cover with grill lid over and cook for 6 to 8 minutes or until shrimp turn pink, and are cooked throughout, turning once.
Remove skewers from grill and serve immediately.