Man-in-Motion Chicken Kabobs
By
Deen Brothers
JUMP TO RECIPE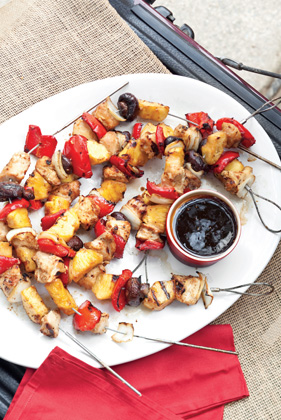 Difficulty: Easy
Servings: 8 to 10 Servings
Ingredients
2 pounds boneless skinless chicken breast
2 red bell peppers
1 large onion
1 8-ounce package baby bella mushrooms
1/2 cup vegetable oil
1/2 cup soy sauce
1/3 cup honey
3 tablespoons sesame oil
2 tablespoons minced fresh ginger
3 clove s garlic
1 teaspoon crushed red pepper
1 pineapple
Teriyaki sauce optional
Directions
1 In a large bowl, combine chicken, red bell peppers, onion, and mushrooms.
2 In a small bowl, whisk together vegetable oil, soy sauce, honey, sesame oil, ginger, garlic, and crushed red pepper. Pour over chicken mixture; toss gently to combine. Cover and refrigerate for up to 4 hours.
3 Spray grill rack with nonstick nonflammable cooking spray. Preheat grill to medium-high heat (350Ëš to 400Ëš).
4 Drain chicken, discarding marinade. Thread chicken, vegetables, and pineapple on skewers as desired. Grill skewers, covered with grill lid, for 6 to 8 minutes, turning skewers occasionally or until vegetables are tender and chicken is cooked through. Serve immediately with teriyaki sauce, if desired.