Steak Kabobs with Peppers, Onions and Mushrooms
By
Deen Brothers
JUMP TO RECIPE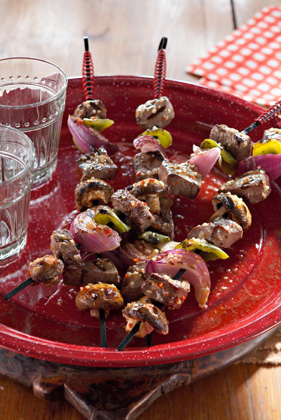 Featured in:
The Deen Bros. Y'all Come Eat
Difficulty: Easy
Servings: 8 Kabobs
Ingredients
8 skewers
2 pounds boneless sirloin steak
2 green bell peppers
2 medium red onions
16 white button mushrooms
1 cup bottled Italian salad dressing
Directions
If using wooden skewers, soak them in water for at least 30 minutes to prevent them from burning.
Build your kabobs this way: beef, pepper, onion, beef, mushroom, beef, pepper, onion, beef, mushroom. Place kabobs in a shallow dish. Pour Italian dressing over the kabobs and let marinate for 30 minutes at room temperature or up to overnight in the refrigerator, turning kabobs occasionally.
Prepare the grill for medium-high direct heat. Grill about 10 minutes or until the meat is brown and just cooked through, turning occasionally.