Chicken Florentine
By
Paula Deen
JUMP TO RECIPE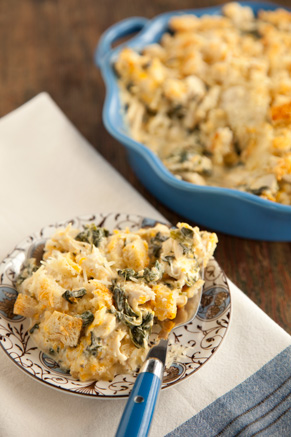 Difficulty: Easy
Prep time: 20 minutes
Cook time: 30 minutes
Servings: 6-8
Ingredients
2 (10 oz) packages chopped frozen spinach
6 (about 4 lbs) cooked, boned, and shredded chicken breast halves
2 cans condensed cream of mushroom soup
1 cup mayonnaise
1 cup sour cream
2 cups grated sharp cheddar cheese
2 tablespoons fresh lemon juice
1 teaspoon curry powder
1/2 cup dry white wine
1/2 cup freshly grated Parmesan cheese
1/2 cup soft breadcrumbs
2 tablespoons butter
to taste salt and freshly ground black pepper
Directions
Remove the outer wrappers from the box of spinach. Open 1 end of each box. Microwave on full power for 2 minutes, until thawed. Drain the spinach and put into a large bowl. Add the shredded chicken.
In a medium bowl, combine the soup, mayonnaise, sour cream, cheddar, lemon juice, curry powder, salt and pepper, to taste, and wine. Whisk together to make a sauce. Pour the sauce over the spinach and chicken. Mix well with a spatula.
Place the mixture into an 11 by 7-inch casserole dish or 2 (9-inch) square disposable aluminum foil pans that have been sprayed with vegetable oil cooking spray. Pat down evenly and smooth with a spatula. Combine the Parmesan and bread crumbs and sprinkle over the top. Dot with the butter.
Wrap the uncooked casserole securely with plastic wrap, then with aluminum foil. Place each pan into a plastic freezer bag and seal. Place into freezer.
Allow casserole to thaw 24 hours in refrigerator. When ready to bake, remove the plastic wrap and foil. Bake uncovered at 350 °F for about 30 minutes until bubbly.