New Potato and Green Bean Salad
By
Paula Deen
JUMP TO RECIPE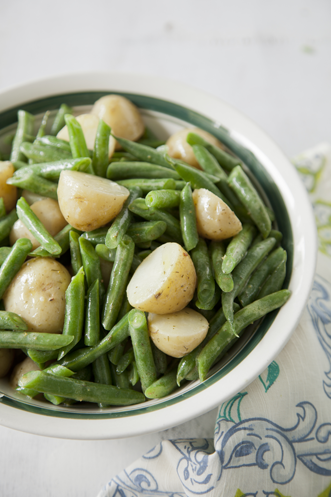 Difficulty: Easy
Prep time: 20 minutes
Cook time: 15 minutes
Servings: 12
Ingredients
1 (3-lb) bag new potatoes quartered
1 lb fresh green beans cut into bite-sized pieces
1/3 cup olive oil
2 1/2 tablespoons white wine vinegar
1 tablespoon dijon mustard
1/4 teaspoon dried dill
1/2 teaspoon salt
1/2 teaspoon black pepper
Directions
In a large saucepan, add potatoes to enough water to cover. Bring to a boil, and boil for 8 minutes. Add green beans, return to a boil and cook for 2 minutes. Drain and cool slightly.
Place potatoes and green beans in a serving bowl.
In a small bowl, whisk together olive oil and next 5 ingredients. Pour over potato and green beans, tossing gently to coat. Cover and chill.