Potato Salad with Green Beans and Pesto
By
Deen Brothers
JUMP TO RECIPE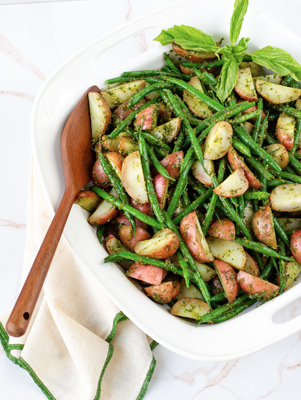 Difficulty: Easy
Prep time: 30 min
Cook time: 20 min
Servings: 8 servings
Ingredients
2 1/2 pounds baby red new potatoes
Kosher salt
4 ounces fresh basil leaves 4 cups loosely packed basil
1/2 cup extra-virgin olive oil
1/2 cup chopped pine nuts
1/4 cup finely grated Parmesan
1 large clove garlic
Freshly ground black pepper
1 1/2 pounds green beans
Directions
Place the potatoes into a large saucepan, cover with cold water and add a big pinch of salt. Bring to a boil, reduce to a simmer and cook until tender, about 15 minutes. Use a slotted spoon or a spider to remove the potatoes to a bowl. Add the green beans to the boiling water and cook for 3 minutes longer.
Add the basil, olive oil, pine nuts, Parmesan, garlic and some salt and pepper to a bowl of a food processor and pulse until smooth.
Add the pesto to the still-warm potatoes and toss all together. Drain the green beans into a colander in the sink and rinse to stop the cooking. Add to the bowl. Serve warm or chilled. Can be made 1 day ahead.