Lighter Shrimp Florentine Over Tomato Grits
By
Deen Brothers
JUMP TO RECIPE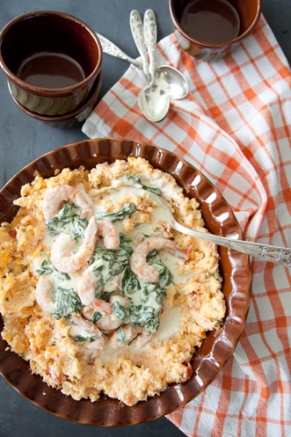 Difficulty: Easy
Prep time: 10 minutes
Cook time: 10 minutes
Servings: 10
Ingredients
2 cups water
1 cup fat-free milk
1/2 teaspoon salt
1 cup quick cooking grits
1 10-ounce can diced tomatoes with green chiles
1 1/2 cups shredded shredded reduced-fat pepper-jack cheese
2 large lightly beaten eggs
4 thinly sliced scallions
2 teaspoons olive oil
3/4 lb peeled and deveined, cut crosswise in half large shrimp
2 cloves minced garlic
1 lemon's worth lemon juice
1/2 cup reduced-sodium chicken broth
1/4 cup reduced-fat half and half
2 tablespoons grated Parmesan cheese
1/4 teaspoon pepper
1 pinch nutmeg
1 (5 oz) container baby spinach
Directions
Preheat the oven to 350 °F. Spray an 8 x 8-inch baking dish with nonstick spray.
Bring the water, milk and salt to a boil in a medium saucepan. Slowly whisk in the grits. Reduce the heat and simmer, covered, stirring occasionally, until thickened, about 5 minutes. Remove from the heat. Stir in the tomatoes, 1 cup Jack cheese, egg whites, and scallions until blended. Spoon the grits into the baking dish. Cover and bake for 25 minutes. Uncover and sprinkle with the remaining 1/2 cup cheese. Bake, uncovered, until the cheese is melted, about 5 minutes. Transfer to a rack; keep warm.
Heat the oil in a large nonstick skillet over medium-high heat. Add the shrimp and garlic and cook, stirring, until the shrimp begin to turn pink, about 3 minutes. Stir in the lemon juice. Transfer the shrimp to a plate; set aside.
Add the broth, half-and-half, Parmesan, the remaining 1/4 teaspoon salt, pepper and nutmeg to the skillet; bring to a boil. Add the spinach. Reduce the heat and cook, stirring, until the spinach is wilted. Return the shrimp to the skillet and heat through.
Serve the shrimp mixture over the grits and serve at once.