Shrimp Florentine over Tomato Grits
By
Paula Deen
JUMP TO RECIPE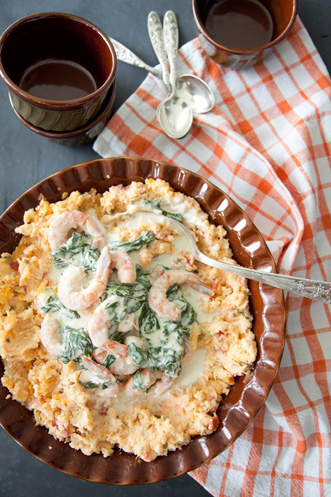 Difficulty: Medium
Prep time: 10 minutes
Cook time: 10 minutes
Servings: 10
Ingredients
2 cups water
3/4 cup milk
1 teaspoons salt
1 cup quick cooking grits
1 stick plus 3 tablespoons, divided butter
1/3 cup diced green onions
1 (6 oz) garlic cheese roll
2 1/2 cups shredded cheddar cheese
1 (10 oz) can diced tomatoes and green chiles
2 lightly beaten eggs
1 clove minced garlic
12 peeled and deveined shrimp
2 juiced lemons
for deglazing white wine
1 cup heavy cream
1/4 cup grated Parmesan cheese
2 cups packed down fresh spinach
1 dash ground nutmeg
Directions
Preheat the oven to 350 °F.
To make the tomato grits, in a saucepan, bring the water and milk to a boil. Add the salt. Slowly add the grits and return to a boil; stir for 1 full minute. (The secret to preparing good grits is the initial stirring of the pot.) Reduce the heat, cover, and cook for 3 minutes. Stir the grits and add 1 stick of butter, stirring until it has melted. Cover and cook for 3 to 5 minutes, or until the grits are thick and creamy. Remove from the heat and set aside. Sauté the onions in the remaining 1 tablespoon butter for 1 minute. Add the garlic cheese, 1 1/2 cups cheddar and onions to the grits, and stir until cheese is melted. Add the tomatoes and green chiles and mix well; stir in the beaten eggs. Pour the grits into a greased 8 by 11 by 2-inch casserole. Bake the casserole for 40 minutes. Sprinkle the remaining cheese over the casserole for the last 5 minutes of cooking time.
To make the Shrimp Florentine, start with 2 tablespoons butter in sauté pan. Add minced garlic and shrimp. Deglaze with lemon and wine. Add cream, cheese and spinach. Reduce, season, to taste, with salt and pepper and pour over grits.