Lighter Chicken Florentine
By
Deen Brothers
JUMP TO RECIPE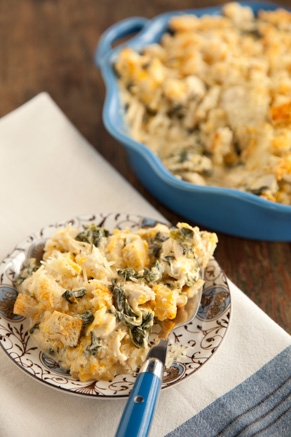 Difficulty: Easy
Prep time: 15 minutes
Cook time: 15 minutes
Servings: 15
Ingredients
4 (5 oz) skinless boneless chicken breasts
1/2 teaspoon kosher salt
1/4 teaspoon fresh ground black pepper
2 teaspoons olive oil
1/2 lb stems removed, caps sliced shiitake mushrooms
2 thinly sliced shallots
2 cloves minced garlic
1 (5 oz) container baby spinach
1 tablespoon all purpose flour
1 cup fat-free milk
1/2 cup shredded, or swiss reduced-fat jarlsberg cheese
Directions
Preheat the oven to 425 °F. Spray a medium baking dish with cooking spray.
Spray a large nonstick skillet with cooking spray and set over medium-high heat. Sprinkle the chicken with 1/4 teaspoon salt and the pepper. Add the chicken to the skillet and cook until browned, about 6 minutes. Transfer the chicken in one layer to the baking dish.
Add the oil to the skillet along with the mushrooms, shallots and garlic. Cook, stirring frequently, until the mushrooms are tender, about 8 minutes. Add the spinach and cook, stirring occasionally, until the spinach is wilted, about 3 minutes.
Whisk together the flour with 2 tablespoons of the milk in a 2-cup glass measure until smooth. Stir in the remaining milk, the remaining 1/4 teaspoon salt, and nutmeg until blended. Add the milk mixture to the spinach mixture in the skillet, and cook, stirring frequently, until the mixture bubbles and begins to thicken slightly, about 2 minutes. Pour the sauce evenly over the chicken. Sprinkle evenly with the cheese.
Bake, uncovered, until bubbly around the edges and the cheese is melted, about 10 minutes.