Caramelized Vidalia Onion Tart
By
Paula Deen
JUMP TO RECIPE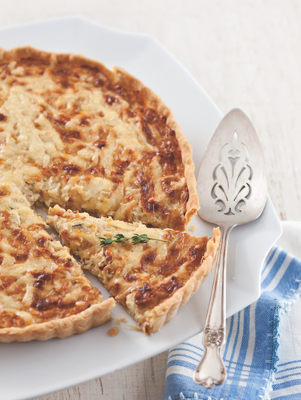 Featured in:
At the Southern Table
Get your copy of At the Southern Table with Paula Deen here.
Difficulty: Medium
Prep time: 20 minutes
Cook time: 70 minutes
Servings: 1 (10-inch) tart
Ingredients
1/2 (14.1-ounce) package refrigerated piecrusts
1/4 cup butter
5 large Vidalia onions , thinly sliced
2 tablespoons balsamic vinegar
1 (8-ounce) package cream cheese , softened
1 (4-ounce) package goat cheese , softened
1 1/2 cups shredded Gruyère cheese , divided
2 egg yolks , lightly beaten
1/4 teaspoon salt
1/4 teaspoon ground black pepper
Directions
Preheat oven to 425°.
On a lightly floured surface, roll dough to a 12-inch circle. Press into bottom and up sides of a 10-inch removable-bottom tart pan. Prick all over with a fork.
Bake for 6 minutes. Let cool completely. Reduce oven temperature to 350°.
In a large skillet, melt butter over medium heat. Add onion; cover and cook, stirring occasionally, until tender, about 20 minutes. Uncover and increase heat to medium-high. Cook, stirring frequently, until onion is lightly browned, 10 to 15 minutes. Stir in vinegar, and cook for 2 minutes.
Remove from heat, and stir in cream cheese, goat cheese, and 1 cup Gruyère until melted and smooth. Stir in egg yolks, thyme salt, and pepper. Spread mixture into prepared crust.
Bake for 25 minutes. Sprinkle with remaining 1/2 cup Gruyère, and bake 5 minutes more. Let cool on a wire rack for 15 minutes. Remove from pan, and serve warm.