Breakfast Bake
By
Deen Brothers
JUMP TO RECIPE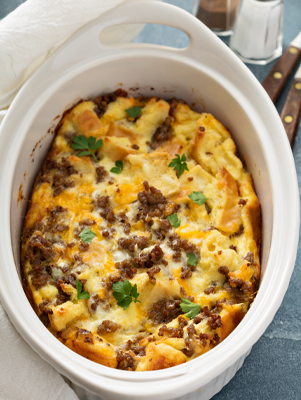 Difficulty: Easy
Prep time: 1 hour
Cook time: 1 hour
Servings: 6 to 8
Ingredients
Butter
1 tablespoon olive oil
1 pound hot Italian turkey sausage
1 medium onion
1 medium red bell pepper
One 1-pound loaf rustic French
2 cups grated Gruyere cheese 8 ounces
6 large eggs
2 cups whole milk
1 cup heavy cream
1 1/2 tablespoons sliced fresh chives
Kosher salt and freshly ground black pepper
Directions
Butter a 4-quart baking dish.
In a large skillet, heat the oil over medium heat. Once hot, add the sausage, onions and bell peppers. Cook, while stirring, until the sausage is cooked through and crumbly and the onions and peppers are soft, about 6 minutes.
Add the bread to the prepared baking dish. Stir in the sausage and pepper mixture and the cheese, reserving a bit of cheese for the top.
In a medium bowl, whisk together the eggs, milk, cream, chives and some salt and pepper. Pour the mixture evenly over the bread and give a little stir to make sure it's evenly distributed. Sprinkle with the reserved cheese. Cover with plastic wrap and let soak for 30 minutes.
Remove the casserole from the refrigerator and let come to room temperature for 30 minutes. Meanwhile, preheat the oven to 350 degrees F.
Bake until the top is puffed and golden and a knife inserted in the middle comes out clean, about 1 hour. Garnish with more chopped chives before serving.