Christmas Morning Breakfast Casserole
By
Paula Deen
JUMP TO RECIPE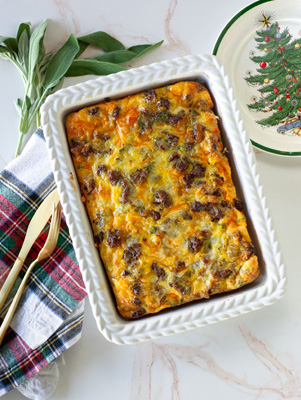 Bring comfort and joy to your family with this Christmas breakfast casserole recipe. For simplicity, you can make it the night before, refrigerate it, and bake
Show more
Bring comfort and joy to your family with this Christmas breakfast casserole recipe. For simplicity, you can make it the night before, refrigerate it, and bake it in the morning!
Difficulty: Easy
Prep time: 9 hours
Cook time: 60 minutes
Servings: 6 to 8
Ingredients
8 thick slices country white bread, buttered and cubed
1 lb loose pork breakfast sausage
1 tablespoon chopped fresh sage
1 cup shredded white cheddar cheese
1 cup yellow shredded sharp cheddar cheese
7 eggs
3 cups milk
½ teaspoon cayenne pepper
½ teaspoon dry mustard
salt, to taste
black pepper, to taste
Paula Deen's Hot Sauce
Directions
Prepare a 9×13 baking dish with non-stick cooking spray.
In a large skillet over medium-high heat, add the loose pork breakfast sausage, using a wooden spoon break up the sausage into crumble sized pieces, cook until browned, about 5-10 minutes. Fold in chopped sage after cooked.
Meanwhile; Into the prepared baking dish, add the buttered and cubed bread, Sprinkle the sausage over the bread, make sure to distribute evenly, then sprinkle with cheese.
In a medium bowl, add eggs, milk, cayenne, dry mustard, salt and pepper to taste; whisk together. Pour over the bread, sausage and cheese.
Cover with plastic wrap and refrigerate.
The next morning, preheat the oven to 350º. Bake for 1 hour, or until bubbly and hot. Serve hot.