Braised Bratwurst and Cabbage
By
Deen Brothers
JUMP TO RECIPE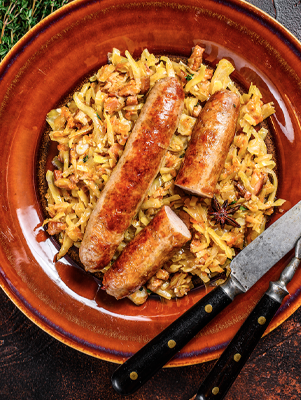 Difficulty: Easy
Prep time: 20 minutes
Cook time: 45 minutes
Servings: 6
Ingredients
6 bratwurst sausages
3 slices chopped bacon
1 tablespoon olive oil
1/2 head sliced green cabbage
2 cups drained sauerkraut
1 medium sliced onion
2 medium peeled and cut into 4 pieces each carrots
1 tablespoon apple cider vinegar
1 bottle lager beer
1 cup chicken stock
1 teaspoon caraway seeds
for serving prepared horseradish
for serving stone ground mustard
or rolls, for serving pumpernickel bread
Directions
In a heavy-bottomed pot (a cast iron braising pot, if you have one) over medium-high heat, add olive oil, sausage and bacon. Cook for 5-6 minutes or until lightly browned.
Add green cabbage, onion, carrots and chicken stock and cook for 2-3 minutes to soften vegetables.
Add beer, apple cider vinegar and caraway seeds. Reduce heat to medium and simmer for 45 minutes or until the vegetables are tender and the meat is cooked through. Add the sauerkraut and simmer for 5-6 minutes more.
Serve at your next Oktoberfest party with pumpernickel rolls or bread, horseradish and mustard.