Quick Braised Chicken with Rosemary & Potatoes
By
Deen Brothers
JUMP TO RECIPE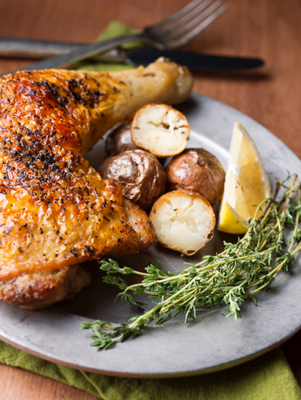 Featured in:
The Deen Bros. Take It Easy
Difficulty: Easy
Prep time: 15 minutes
Cook time: 40 minutes
Servings: 12
Ingredients
3 pounds chicken legs
2 Teaspoons salt
1 teaspoon freshly ground black pepper
1 pound small new red potatoes
3 tablespoons olive oil
2 clove fresh garlic
1 1/2 tablespoons freshly squeezed lemon juice
1 tablespoon fresh rosemary, chopped
Directions
Preheat the oven to 400F.
In a small bowl, whisk together the 2 teaspoons salt, 1 teaspoon pepper, the olive oil, garlic, lemon juice, and rosemary.
Place the chicken in a large broiler-proof baking pan and season with additional salt and pepper. Add the potatoes to the pan. Pour the rosemary mixture over the chicken and potatoes and toss to coat.
Cover the pan with aluminum foil and bake for 30 minutes. Uncover the pan and transfer to the broiler. Broil, 4 inches from the heat, for about 10 minutes, or until the juices run clear when the chicken is pricked with a fork. Serve hot, with pan juices spooned on top.