Bobby's Lighter Smashed Potato Cakes
By
Bobby Deen
JUMP TO RECIPE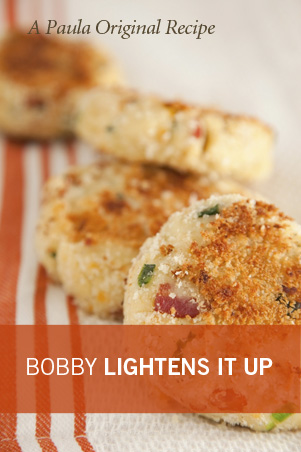 Difficulty: Easy
Prep time: 15 minutes
Cook time: 15 minutes
Servings: 15
Ingredients
3 slices chopped reduced-fat center-cut bacon
3 large (about 2 1/2 lbs), peeled and cut into 1-inch pieces Yukon Gold potatoes
4 cloves peeled and cut lengthwise in half garlic
1/4 cup plain low-fat Greek-style yogurt
1/4 cup reduced-sodium chicken broth
3/4 teaspoon salt
1/2 teaspoon pepper
1 1/4 cups panko breadcrumbs
1/2 cup shredded reduced fat cheddar cheese
3 finely chopped scallions
4 teaspoons canola oil
Directions
Spray a small nonstick skillet with nonstick spray and set over medium-high heat. Add the bacon and cook until crisp, 3–4 minutes. Transfer to paper towels to drain.
Place the potatoes and garlic in a large pot with enough water to cover by 2 inches; bring to a boil. Reduce the heat and simmer until fork-tender, about 20 minutes; drain. Return the potatoes and garlic to the pot. Mash with the yogurt, broth, salt and pepper, until smooth. Stir in 1/2 cup panko, the cheese, scallions and bacon. Shape into eight (3-inch) patties. Place the remaining 3/4 cup Panko in a shallow dish and dredge the patties into the crumbs.
Heat 2 teaspoons oil in a large nonstick skillet over medium-high heat. Add half the potato cakes and cook until browned and crisp, 3–4 minutes per side. Carefully transfer to a serving platter. Repeat with the remaining oil and potato cakes. Serve hot.