Bobby's Lighter Bacon Cheeseburger Meatloaf
By
Bobby Deen
JUMP TO RECIPE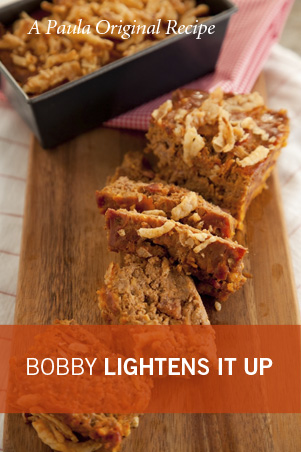 Difficulty: Easy
Prep time: 20 minutes
Cook time: 1 hour 10 minutes
Servings: 6
Ingredients
3 slices torn whole wheat bread
1/4 cup low fat milk
2 teaspoons canola oil
1 (8 oz) package coarsely chopped mushrooms
1 finely chopped onion
1 teaspoon salt
1 small shredded zucchini
1 (20.8 oz) package or chicken ground turkey
1/2 cup shredded fat-free mozzarella cheese
4 slices reduced-fat center-cut bacon
1/4 cup plain breadcrumbs
1 large egg
1/4 cup ketchup
1 tablespoon spicy brown mustard
2 tablespoons French fried onions
Directions
Preheat oven to 350 °F. Line a broiler pan with foil and lightly spray the foil with nonstick spray.
Combine the bread and milk in a large bowl; let stand 10 minutes to soften. Heat the oil in a large nonstick skillet over medium-high heat. Add the mushrooms, onion, and 1/4 teaspoon salt; cook, stirring occasionally, until the vegetables are very tender, 5-7 minutes. Add the zucchini and cook, stirring until softened, about 3 minutes. Remove from the heat; let cool slightly.
Add the mushroom mixture, turkey, cheese, bacon, breadcrumbs, egg and remaining 3/4 teaspoon salt to the bread mixture. Toss gently to combine. In a small bowl, combine the ketchup and mustard. Stir 1/4 cup ketchup mixture into meat mixture. Shape into a loaf and place on the pan. Spread the remaining ketchup mixture over the loaf. Bake 40 minutes. Top with French fried onions. Bake until an instant-read thermometer inserted into the center of the loaf registers 160º, 10-15 minutes longer. Let stand 10 minutes before slicing. Cut into 12 slices.