Green Bean Bundles With Bacon Vinaigrette
By
Paula Deen
JUMP TO RECIPE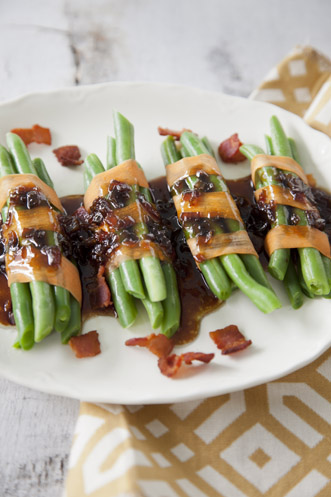 Difficulty: Medium
Prep time: 15 minutes
Cook time: 15 minutes
Servings: 15
Ingredients
2 quarts water
2 lbs trimmed fresh green beans
2 large peeled into thin ribbons carrots
1 lb cut into 1/2-inch pieces bacon
2 minced shallots
1/4 cup firmly packed brown sugar
2/3 cup balsamic vinegar
1/4 cup olive oil
Directions
Preheat the oven to 350 °F. Line a rimmed baking sheet with aluminum foil.
In a large Dutch oven, bring the water to a boil over high heat. Add the green beans and boil until crisp-tender, about 5 minutes. Remove from the heat, drain, and plunge into ice water to stop the cooking.
Wrap 5 or 6 green beans with 1 carrot ribbon. Place seam side down on the prepared baking sheet. Repeat the process with the remaining green beans and carrot ribbons.
In a large skillet, cook the bacon pieces over medium heat until crispy. Remove from the pan with a slotted spoon and drain on paper towels; set aside. Reserve 3 tablespoons bacon drippings in a skillet and heat over medium heat. Add the shallots and cook for 2 minutes, stirring occasionally. Add the brown sugar and cook for 1 minute. Stir in the balsamic vinegar and cook for 6 minutes. Remove from the heat and stir in the olive oil. Drizzle 1 tablespoon of the hot mixture evenly over the green bean bundles. Bake until green beans are tender, 15 to 20 minutes. Sprinkle with bacon before serving.