Bobby's Lighter Spinach and Bacon Quiche
By
Bobby Deen
JUMP TO RECIPE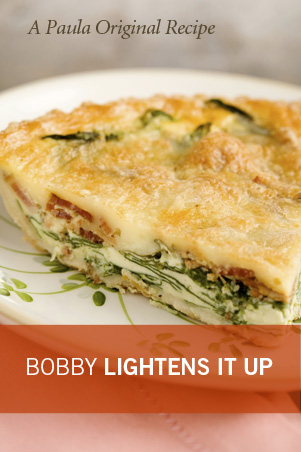 Difficulty: Easy
Prep time: 10 minutes
Cook time: 10 minutes
Servings: 10
Ingredients
2 teaspoons olive oil
1 chopped onion
1 (7 oz) container baby spinach
2 large eggs
2 egg whites
1/2 cup low fat milk
1 cup part skim ricotta cheese
1/2 teaspoon salt
1/8 teaspoon cayenne
1 pinch nutmeg
1/2 cup shredded reduced-fat Swiss cheese
3 slices (about 2 tablespoons) cooked and crumbled bacon
Directions
Preheat the oven to 375º. Spray a 9-inch glass pie plate with nonstick spray.
Heat the oil in a large nonstick skillet over medium-high heat. Add the onion and cook, stirring occasionally, until tender, about 5 minutes. Add the spinach and cook, stirring, until the spinach is wilted and any liquid is evaporated, 2 – 3 minutes.
Whisk the eggs and egg whites in a large bowl until lightly beaten. Whisk in the milk, ricotta, salt, cayenne and nutmeg until blended. Stir in the spinach mixture, cheese and bacon until well combined.
Pour into the prepared pie plate. Bake until the top is golden and a knife inserted into the center comes out clean, 35 – 40 minutes. Let stand 10 minutes before slicing.