Bobby's Lighter Chicken Boudine
By
Deen Brothers
JUMP TO RECIPE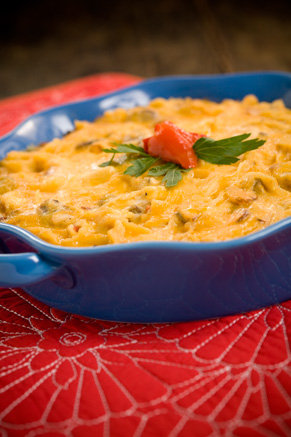 Difficulty: Easy
Prep time: 15 min
Cook time: 35 min
Servings: 6
Ingredients
2 cups dry no-yolk noodles
2 teaspoons olive oil
1 8-ounce package mushrooms
1/2 red bell pepper
1/2 teaspoon salt
1 7-ounce package baby spinach
1 10 3/4-ounce cans fat-free cream of mushroom soup
1 cup water
2 cups chopped cooked chicken
3/4 cup grated sharp Cheddar cheese
2 tablespoons slivered almonds
Directions
Prepare noodles according to package directions; drain.
Preheat the oven to 350° F. Spray a 1-quart baking dish with nonstick spray.
Heat the oil in a large nonstick skillet over medium-high heat. Add the mushrooms, bell pepper and 1/4 teaspoon salt. Cook, stirring occasionally, until tender, about 5 minutes. Stir in the spinach and cook, stirring, until the spinach is wilted, 2- 3 minutes.
Combine the soup and water in a small bowl until blended. Add the soup, chicken, and cooked noodles to the skillet; heat through. Spoon the mixture into the baking dish. Sprinkle with the cheese.
Bake, covered, until the cheese is melted and the mixture is bubbly, 20 – 25 minutes. Sprinkle with the almonds, if using.