Aunt Trina's Holiday Pumpkin Crunch
By
Paula Deen
JUMP TO RECIPE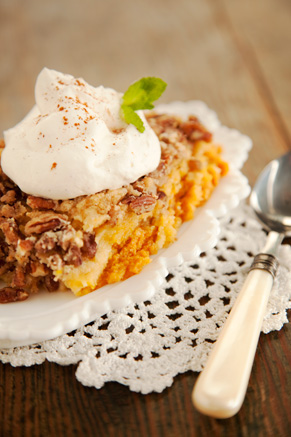 Difficulty: Easy
Prep time: 15 minutes
Cook time: 50 to 60 minutes
Servings: 10
Ingredients
1 (15 oz) can canned pumpkin
1 (12 oz) can evaporated milk
1 1/2 teaspoons divided cinnamon
1 cup sugar
3 beaten eggs
1 box yellow cake mix
1 cup chopped pecans
2 sticks cut into pieces butter
1 (8 oz) package softened cream cheese
1 cup heavy whipping cream
1/2 cup powdered sugar
Directions
In a large mixing bowl, whisk together pumpkin, evaporated milk, 1 teaspoon cinnamon and sugar until well combined. Add eggs and mix well.
Pour mixture into a 9×13 baking dish prepared with a non stick spray. Sprinkle cake mix evenly over entire top. Sprinkle nuts evenly over cake mix and top with butter pieces. Bake at 350º for 50-60 minutes. Set aside to cool.
Prepare frosting while cake is cooling. In a large mixing bowl using a hand mixer, whip cream cheese until light. Add in whipping cream and continue to whip until fully combined and thickening. Add powdered sugar and 1/2 teaspoon cinnamon and whip until smooth.
To Serve: Scoop out a slice of the pumpkin crunch and top with a dollop of the cream cheese frosting, or frost the entire pumpkin crunch with the frosting.