Bobby's Lighter Pumpkin Crunch
By
Deen Brothers
JUMP TO RECIPE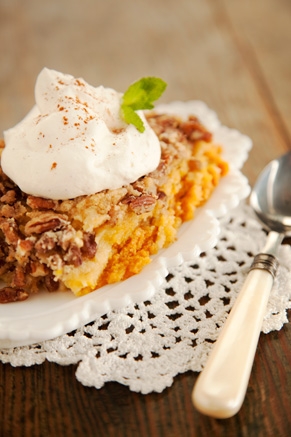 Difficulty: Easy
Prep time: 10 min
Cook time: 50 min
Servings: 16
Ingredients
1 15-ounce can pumpkin puree not pumpkin pie mix
1 12-ounce can fat-free evaporated milk
3/4 cup sugar
1 teaspoon ground cinnamon
2 eggs whites
1 large egg
1 16-ounce package sugar-free yellow cake mix
1/2 cup chopped pecans
4 tablespoons cold butter
Directions
Preheat the oven to 350°F. Spray a 9 x 13-inch baking dish with nonstick spray.
Whisk the pumpkin puree, evaporated milk, sugar, and cinnamon in a large bowl until well mixed. Add the egg whites and egg, whisking until well blended.
Scrape the batter into the baking dish. Sprinkle the cake mix evenly over the batter to cover completely. Scatter the nuts and butter pieces over top.
Bake, uncovered, until a toothpick inserted in the center comes out with a few moist crumbs attached, 45 – 50 minutes. Cool on a wire rack.
TEST KITCHEN TIP:
Even though Aunt Trina serves her pumpkin crunch with cream cheese frosting, our lighter version is so good we didn't miss it. If you want to indulge, serve with a small scoop of sugar-free butter pecan ice cream or a little reduced-fat non-dairy whipped topping sprinkled with a little cinnamon.