Asparagus with Lemon Butter
By
Paula Deen
JUMP TO RECIPE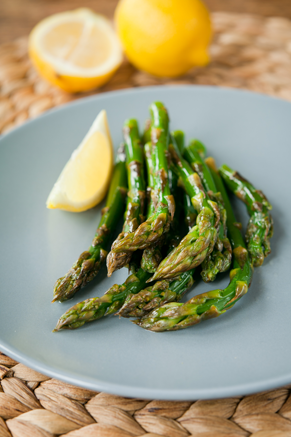 Difficulty: Easy
Prep time: 10 minutes
Cook time: 10 minutes
Servings: As desired
Ingredients
4 tablespoon butter
1 juiced lemon
salted water
5 to 6 spears per person asparagus
olive oil
to taste kosher salt
Directions
Wash asparagus and line them up on a cutting boar with the tops even. Even up bottoms and cut off tough ends.
Bring a skillet or oval casserole filled half full of salted water to boil. Dump in asparagus all at once. When water returns to the boil, cook asparagus from 1 to 3 minutes depending on its size and your preference. Remove from pot and drain well.
Return asparagus to hot pan, squeeze lemon juice over top. Fry with olive oil and a little butter, being careful not to overcook. Add kosher salt to taste. Serve immediately.
To make sauce, melt 2 tablespoons butter and whisk in lemon juice.