One Sheet Tray Salmon and Broccoli
By
Paula Deen
JUMP TO RECIPE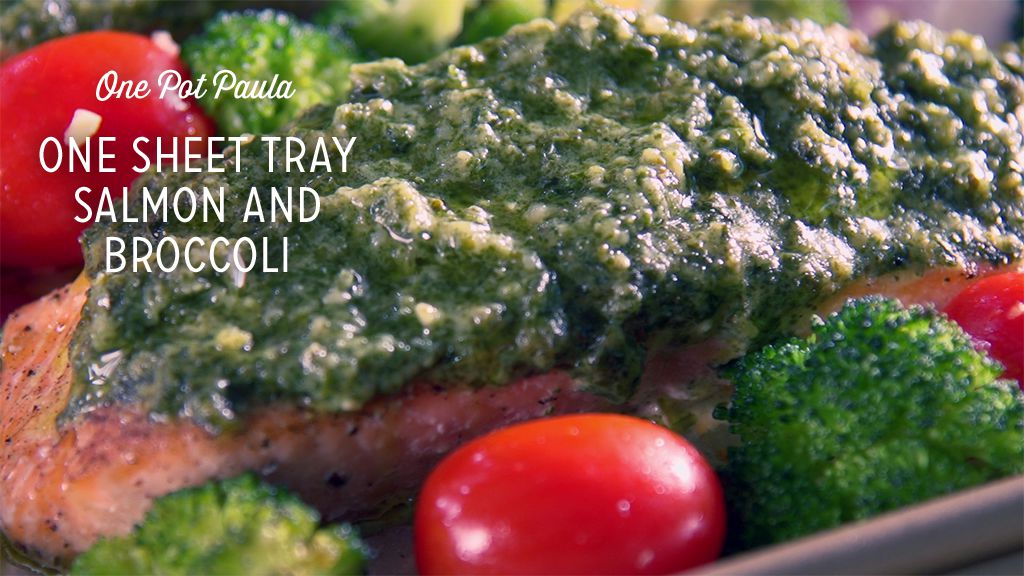 Difficulty: Easy
Prep time: 5 minutes
Cook time: 5 minutes
Servings: 5
Ingredients
1 1/2 lbs broccoli florets
1 (10 oz) container grape tomatoes
2 cloves roughly chopped garlic
2 tablespoons olive oil
4 (6 oz) salmon filets
1/4 cup refrigerated, store-bought pesto
to taste kosher salt
to taste black pepper
Directions
Heat oven to 425 °F. Line a sheet tray with foil.
Add broccoli, tomatoes and garlic to the prepared sheet tray. Drizzle with olive oil and sprinkle with salt and pepper. Toss everything together. Roast in the oven for 10 minutes.
After 10 minutes, remove sheet tray from oven and make room for the salmon. Nestle the salmon filets into the broccoli and spread about 1 tablespoon of pesto on each piece of salmon. Place back into the oven and roast for 10 more minutes, until salmon is cooked through and broccoli is crisp-tender.