Smoked Pork Butt Sandwiches
By
Deen Brothers
JUMP TO RECIPE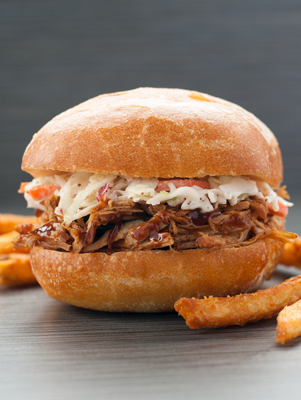 Difficulty: Easy
Prep time: 8 hr 0 min; Inactive: 3 hr 0 min
Cook time: 7 hr 30 min
Servings: 8 servings
Ingredients
One 5-pound pork butt
2 tablespoons light brown sugar
1 tablespoon dry mustard powder
1 tablespoon kosher salt
2 teaspoons paprika
1 teaspoon chili powder
1 teaspoon garlic powder
1 teaspoon freshly ground black pepper
1 teaspoon cayenne pepper
1/2 teaspoon celery seeds
Soft white buns
Sweet and Tangy Vinegar Slaw
6 tablespoons apple cider vinegar
2 tablespoons canola oil
1 tablespoon mayonnaise
1 tablespoon yellow mustard
2 tablespoons sugar
1 teaspoon celery seeds
2 carrots
1 small 1 1/2 pound head green cabbage
2 tablespoons peeled and grated shallot on large eye of a box grater
Kosher salt and freshly ground black pepper
Directions
Place the pork butt on a rimmed sheet tray. Whisk together the brown sugar, dry mustard, salt, paprika, chili powder, garlic powder, black pepper, cayenne and celery seed together in a small bowl to blend. Rub the mixture all over the pork butt. Cover with plastic wrap and let marinate for at least 1 hour at room temperature or up to overnight in the fridge. Let come to room temperature for 1 hour before smoking.
Fill a small aluminum tray with the drained wood chips. Place the tray under the far left grill grates. Heat your grill to medium-high heat and heat for 20 minutes. The chips should start to ignite and smoke. Turn the far right burner off after 20 minutes.
Place the pork fat-side up on the far right on the grill grates over the unlit burner. Cover the grill and cook until tender and a fork can easily twist in the meat with no resistance, about 7 1/2 hours, maintaining a temperature of 275 to 300 degrees F. The internal temperature should reach 190 degrees F. You will need to add a handful of chips to the tray every few hours.
Remove the pork from the grill to a baking sheet and let rest for 30 minutes. Shred with forks and season the meat lightly with salt. Serve on soft white buns and topped with Sweet and Tangy Vinegar Slaw.
Sweet and Tangy Vinegar Slaw
Whisk together the apple cider vinegar, canola oil, mayonnaise, mustard, sugar and celery seeds in a large bowl. Add the carrots, cabbage and shallots and toss all together. Top with salt and pepper. Cover with plastic wrap and refrigerate for at least 1 hour so the cabbage softens and the flavors all marry together.