The Lady and Son's Smoked Boston Butt Roast
By
Paula Deen
JUMP TO RECIPE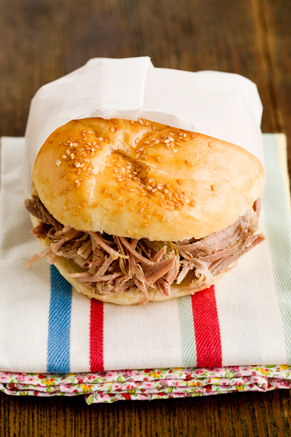 Difficulty: Easy
Prep time: 10 minutes
Cook time: 10 minutes
Servings: 10
Ingredients
4 tablespoons liquid smoke (found in grocery store)
2 tablespoons Paula Deen's Seasoned Salt
4 tablespoons Paula Deen's House Seasoning
1 (5-lb) pork butt roast
1 medium onion, sliced
1 cup water
3 bay leaves
Directions
Preheat oven to 350 °F.
Sprinkle one side of the roast with 2 tablespoon of the house seasoning, making sure to rub well. Flip the roast over and rub the remaining 2 tablespoons of house seasoning. Repeat the process with the seasoned salt and 2 tablespoons of liquid smoke, then thoroughly rub the meat. Place the roast in a large roasting pan. Add the onion, water and bay leaves to the roast. Place in the oven and cook for 2 1/2 to 3 hours, or until thermometer reads 170 °F. Let meat cool for a few minutes and then slice.
Serve with your favorite barbecue sauce in slices or in a sandwich.
To cook it in your electric pressure cooker instead of the oven, add the butt, onions, bay leaves, and a cup of water into your electric pressure cooker. Cook it for about an hour 20 minutes, until fork tender.