Lady and Son's Lemonade
By
Paula Deen
JUMP TO RECIPE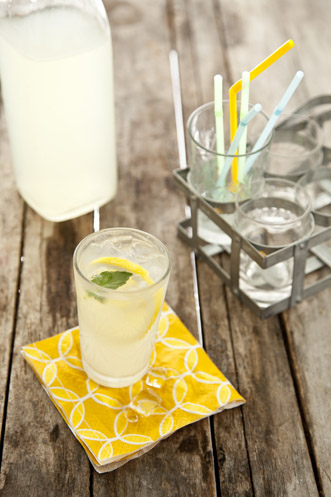 Difficulty: Easy
Prep time: 10 minutes
Cook time: 10 minutes
Servings: 10
Ingredients
13 lemons
2 cups sugar
ice cubes
sprigs, for garnish fresh mint
Directions
Cut 12 lemons in half. Squeeze the lemon juice into a bowl. Use a strainer to fish the seeds out of the juice.
Simmer 1 cup water and the sugar together to make a simple syrup. Add the strained lemon juice and stir together.
Add ice cubes and mint sprigs to a large pitcher. Add the lemon water into the pitcher. Fill the pitcher up with cold water. Slice the remaining lemon into thin slices. Put the lemon slices into the pitcher. Stir well.