Asparagus Sandwich
By
Lady and Sons Restaurant
JUMP TO RECIPE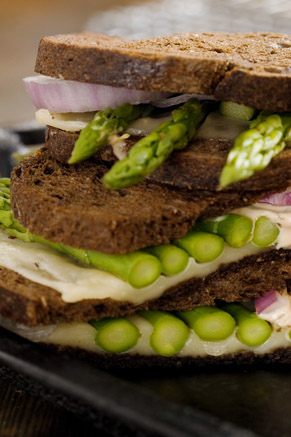 Difficulty: Easy
Prep time: 15 minutes
Cook time: 15 minutes
Servings: 2
Ingredients
2 tablespoons butter
3 slices rings red onion
2 slices Jack cheese
2 slices pumpernickel bread
8 spears (light green bottom end off) washed and cut fresh asparagus
1 to 2 tablespoons recipe below thousand island dressing
1 1/2 cups mayonnaise
1 crushed finely egg
1 cup ketchup
1/4 cup dill relish
Paula Deen's Lemon-Pepper Seasoning
to taste salt
to taste pepper
Directions
Blanch asparagus spears in boiling water for 1 minute. Remove and place in ice bath. In a hot skillet lightly sauté asparagus in butter, salt and pepper. You may use lemon pepper, if desired. Remove asparagus from pan and set aside. Butter bread and grill on one side, flip and lay in slice of cheese on each slice of bread, grill, remove from pan. Spread desired amount of 1000 Island on top of each slice of bread. Arrange asparagus on top of cheese (rotating asparagus). Place onion rings on top of asparagus. Cut in sandwich in half. Garnish with pickle slices or parsley.
Thousand Island Dressing:
In a medium bowl, mix all ingredients together.
Yield: 2 3/4 cups