Lighter Asparagus Croque Madame
By
Unknown
JUMP TO RECIPE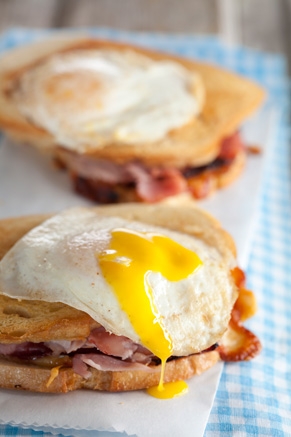 Difficulty: Easy
Prep time: 10 minutes
Cook time: 10 minutes
Servings: 10
Ingredients
2/3 cup reduced fat milk
1 tablespoon all purpose flour
1/4 cup reduced-fat jarlsberg cheese
1 pinch nutmeg
1 pinch cayenne pepper
16 thin spears asparagus
3 tablespoons honey mustard
4 (1 oz) slices toasted whole-grain peasant bread
4 thin slices low-sodium black forest ham
4 large eggs
1/4 teaspoon coarsely ground black pepper
1 tablespoon chopped fresh chives
Directions
Whisk together the milk and flour in a small saucepan until smooth. Bring to a simmer and cook, stirring frequently, until the sauce bubbles and thickens, about 3 minutes. Remove from the heat and stir in the cheese, nutmeg, and cayenne pepper, stirring, until the cheese is melted and the sauce is smooth. Cover and set aside.
Put the asparagus and 3 tablespoons of water in a glass pie plate. Cover loosely with wax paper and microwave on High until the asparagus are tender-crisp and bright green, 1 to€" 2 minutes.
Preheat the broiler.
Spread the mustard evenly on the slices of toast. Layer each slice evenly with the ham; top each with 4 asparagus spears. Top evenly with the sauce. Place the sandwiches on a baking sheet and broil 4 to€" 6 inches from the heat until the sauce is bubbly and browned in spots, about 4 minutes.
Meanwhile, spray a large nonstick skillet with cooking spray and set over medium heat. Crack the eggs into the skillet. Pour 3 tablespoons of water around the eggs. Cover and cook until the whites have set but the yolks are still soft, 2 to 3 minutes. Top each sandwich with an egg. Sprinkle with the pepper and chives and serve at once.